Retail Partners
Labours of Love Designs is thrilled to announce a partnership initiative with Alphabet Photography, that will support the work of The Adoption Council of Canada (headquartered in Ottawa, Canada) and Children's Action Network in the United States. These two organizations work diligently to find permanent homes for children in foster care, awaiting a permanent family, and a place to call home.
Headquartered in Niagara Falls, Ontario, Canada, Official Alphabet Photography by Alphabet Photography Inc. is the creative process of photographing images that resemble letters of the English Alphabet, then arranging the photographs together to create a name or word. Alphabet Photography Inc. is the brainchild of Canadian Award Winning Photographer Jennifer Blakeley who has spent the past four years growing her portfolio of alphabet letters.
"We couldn't be more delighted to partner with a Deborah and Labours of Love Design for these two very deserving charities," said Blakeley. "My husband and I recently welcomed our baby girl Brooke to the world, so we understand now more than the strong need for adoption. We encourage everyone to visit the Alphabet Photography site and use the adopt2011 promo code and help us make children's dreams become a reality," added Blakeley.
When you order online from alphabetphotography.com , using the special promo code ADOPT2011, you will receive $10.00 off your order and an additional 15% will go to The Adoption Council of Canada , for an order from Canada, and to the Children's Action Network , for an order from the United States. For international orders the proceeds will benefit each organization equally"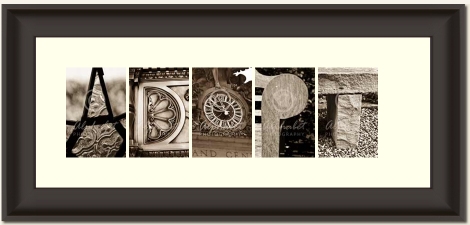 Thank you Alphabet Photography for supporting North America's waiting children!
Deborah, Labours of Love Designs
In 2010, Alphabet Photography Inc. produced a "Christmas Food Court Flash Mob" which has received over 32 Million Views. The Flash Mob can be viewed at: http://www.youtube.com/watch?v=SXh7JR9oKVE