Our Story
On September 14, 1999 our family was forever changed with the birth of a tiny 6 lb. 2 oz., baby girl we would call Diana. Her arrival into our family was the serendipitous outcome of our desire for our son Daniel to have a sibling, and the heartbreaking decision of a young woman named Artrina, to place her child for adoption.
If you are reading this, you will know how adoption can bring both extraordinary pain and joy into your life. Ones perspectives of family and relationships become deeper, more complex and most certainly enlightened. These perspectives are as unique as the individuals we are, and on the journey of adoption, they can change in the most surprising of ways. My belief, is that whatever the circumstances in adoption....every child born into this life, is to be loved and nurtured as nature intended....by family.....birth or otherwise, and that all members of that constellation are valued.
Diana's adoption and our relationship with her birthmother, has touched the depths of my heart, and I wanted to express the journey by writing a book that would share ours and others stories of adoption, from across Canada. The book is called "Labours of Love- Canadians Talk About Adoption". I gained an admiration of all adoptive families and a better understanding of adoptees, birthfamilies and adoptive parents through the writing of it. For that, I am so grateful.
Also, in the years since Diana's birth, I noticed another gap in this new "world of adoption" . As with the birth of a baby or the marking of a milestone, I believe adoption should be celebrated and honoured. I have found it very challenging to find meaningful, distinctive and affordable cards and gifts in the marketplace, which serve the specific needs of the adoption community.
Hence it is with great pleasure and passion, that I have developed "Labours of Love Designs". I am so excited to be working with Canadian companies and artisans who demonstrate the importance of quality and design, and have so willingly agreed to collaborate with me to produce beautiful and distinctive gift items, for families who have been touched by adoption. Within the categories, I hope you will all find items that will resonate with your own adoption story, and become treasured momentos of it. Please send me your comments and suggestions for other creations you'd like to see!
One of my greatest hopes with "Labours of Love" is that its success will help to support North Americas' waiting children and adoptive families . A percentage of this success will be given to the Adoption Council of Canada, www.adoption.ca or Children's Action Network, www.childrensactionnetwork.org .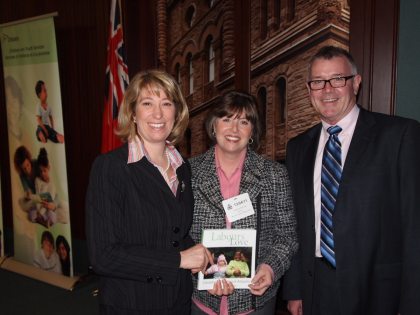 Deb at Queen's Park for a press conference about Bill 179 to help kids in foster care, and the families who want to adopt them.
Visit the Book "Labours of Love" website?
I invite you to...
Celebrate.........Congratulate.........Commemorate !!...............